what is
Sharepoint 
SharePoint is the leading collaboration platform from Microsoft that offers organisations a secure environment for storing, organising, sharing and accessing information. It is a web based application that integrates well with Microsoft Office. Since it's initial release in 2001, it has developed into a major application that many companies today depend on to run the backbone of their business. We have had a successful track record designing, developing and delivering SharePoint solutions to a wide range of clients ranging from small operations to large multinationals. We provide professional end-to-end services for integrating SharePoint & Office 365 into your business. Our services include consulting, development & customization, workflow implementations, maintenance and support. Let us help you to transform your digital workplace.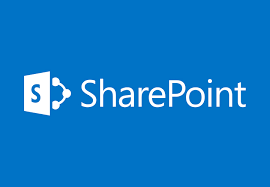 Document Management
Easily store, organise and locate documents in a central location. Control access with specific permissions. Manage who can view, add or change content. Restore items to a particluar point in time using version history and use the auditing tool to track and report changes
Collaboration
The social and collaboration features make it easy for users to share information and ideas. Users can work together on the same document. Newsfeeds help disseminate information throughout your organisation
Knowledge Sharing
Knowledge management is the process of capturing, managing, retaining and effectively using content. As an information repository and content management system, Sharepoint enhances the use of information in critical business processes.
Search
Search in Sharepoint is a combination of relevance, refinement and people. Sharepoint allows you to search across multiple sites and refine the search criteria using a number of different filters. Features such as continuous crawl, advanced content processing and event based relevancy.
Workflow
Automate tasks and a wide variety of business processes. Automatically move documents through a sequence of actions. Collect signatures, feedback or approvals all through the workflow engine.
Task Management
Use task management for Issue tracking. Create sub tasks, assign multiple resources to tasks and integrate data with applications such as Microsoft Project.
Platform
As well as being made available as an on-premise solution, Sharepoint is available in the cloud as Sharepoint Online – a component of Office 365. The infrastructure is fully Scalable infrastructure
Customisation
Custom design the look and feel to match your company branding. Develop processes to cater for specific business needs. Add an app from the SharePoint store and tailor it with specific functionality
What They're Saying
Customer Experience
Streamline Technology recently installed and implemented our new virtualised server environment. The whole project was well executed and the services from Streamline were provided in a professional manner and on time
Streamline has supported us for over 10 years. Their account managers are very efficient. Their desktop support is of high calibre. It is a pleasure doing business with them.
Streamline Technology is a trustworthy, efficient and reliable company to do business with Pan Macmillan SA
Office
80 Studio Park, 5 Concourse , Crescent, Lonehill, 2191, South Africa